Emerald Bay Physical Therapy is a comprehensive center for orthopedic and manual physical therapy in South Lake Tahoe.
We specialize in hands-on, one-on-one treatments that are specific to each patient's goals. At EBPT, we are committed to health and wellness no matter your age, lifestyle, or athletic abilities. Our highly individualized programs are designed to promote complete recovery from injury and continue into healthy work and recreational activities.
We stand out by offering aquatic therapy in our heated therapy pool, manual therapy in private treatment rooms and a multidisciplinary wellness approach. Our focus on quality time spent listening to patients, use of critical thinking to find the cause of pain, and effective manual techniques will exceed your expectations.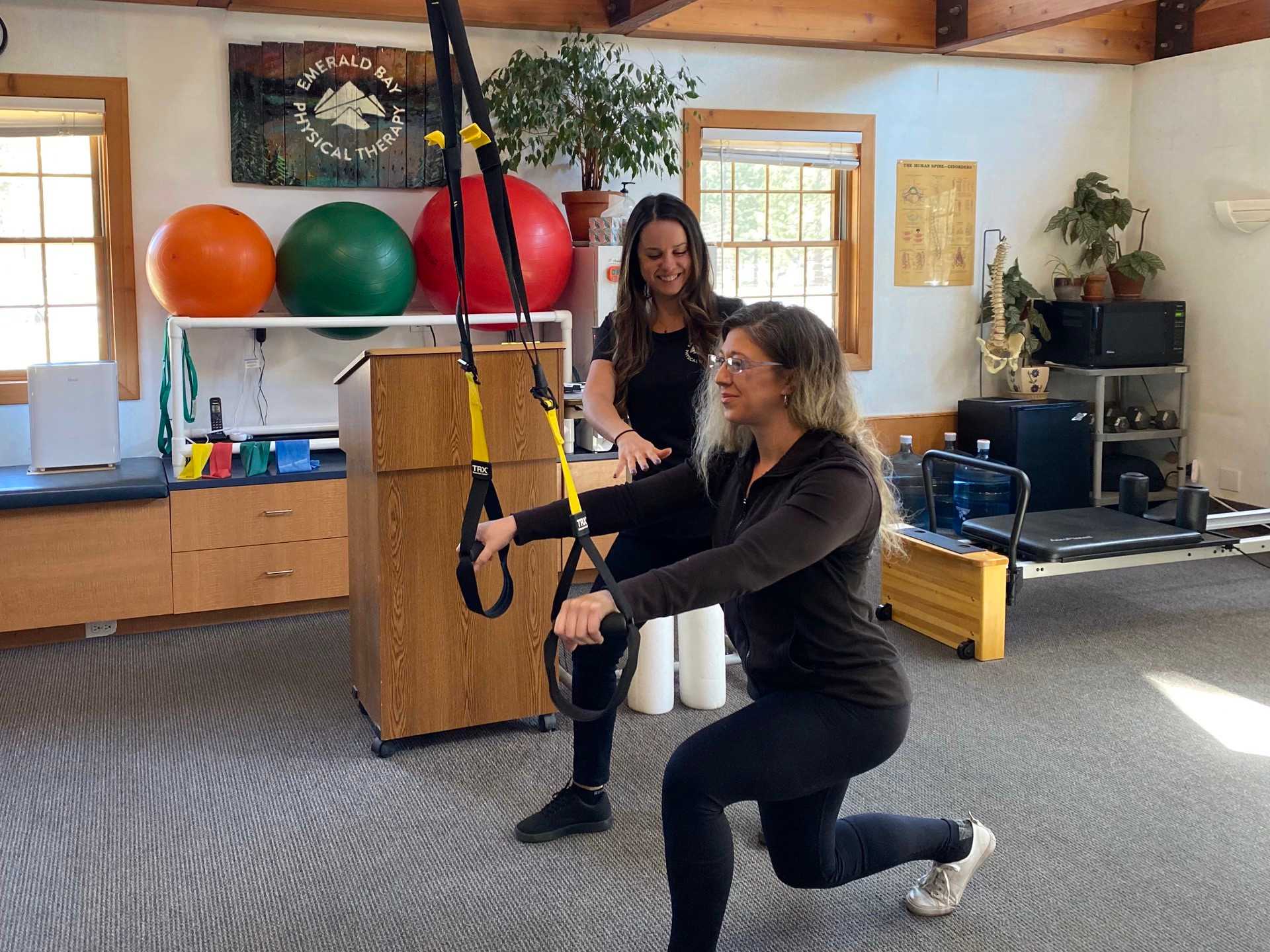 ---
Our Physical Therapy and Wellness Offerings
Aquatic therapy is conducted in a swimming pool that is temperature controlled. It can allow a person to perform movements at an earlier stage of rehabilitation due to reduced weight-bearing from the buoyancy of the water.

Learn more about Aquatic Therapy

Kinesiology Tape is made from a stretchy fabric with adhesive applied in a wavelike pattern on the back. When applied, the tape decompresses by gently lifting the skin underneath it, creating more space between the layers of skin and fascia and allowing for increased circulation. The tension from the tape increases the brain's awareness of the area that is taped due to heightened sensitivity.

Learn more about Kinesio taping

Do you have pain in the pelvis, low back or hips that is associated with sitting, walking, urination, or intercourse?

Learn more about Pelvic Floor Rehabilitation

Suffer from foot, knee, or hip pain? Custom orthotics might be right for you!

Learn more about Orthotics

If you suffer from dizziness or balance problems, vestibular rehabilitation may offer the help you need. In addition, dizziness and balance issues can lead to headaches and / or muscle fatigue.

Learn more about Vestibular Rehabilitation

LSVT BIG trains people with Parkinson's to move their bodies normally. As the disease progresses, movements get smaller and slower, yet feel normal to the involved person. This causes problems with dressing and other tasks for self-care, usual household chores, and walking. The program focuses on recalibrating the brain to understand what normal movement is.

Learn more about LSVT BIG Treatment for Parkinson's Disease
More Offerings

Post-surgical rehabilitation
Injury prevention assessments
Instrument-assisted soft tissue mobilization
Myofascial release
Cupping
Cervical mechanical traction
TRX training
Pilates reformer instruction
TENS electrical stimulation
---
---
Why We Are Different
The unique blend of programs at Emerald Bay Physical Therapy provides you with:
Highly individualized care

Specific interventions over generalized remedies

Detailed evaluations and personalized program development

Definite goals designed to maximize performance and exceed expectations

Comprehensive approach to fitness to meet the complex demands of daily life, athletic pursuits and high-level performance

Transition from rehabilitation to an exercise-based fitness program

Our clinic is home to a 4000-gallon indoor therapy pool featuring an adjustable current, a depth of 3-5 feet to accommodate all heights, and is comfortably heated all year round

Decompress joints while increasing strength, flexibility
Improve balance without risk of falling
Whole body workout
---
---
Intake Forms
Required
General information to get you started.

Please read.
---